Play Now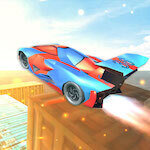 In Fly Car Stunt, get ready for the most thrilling race you've ever seen! Leave your expectations of driving on regular race tracks, because you'll be flooring the gas high up in the sky. Can you prove you're the best driver by completing each race without falling down?
Fasten your seatbelts, and try not to look down. We don't know who thought creating a race track from shipping containers was a good idea, but it's not for the faint of heart! This game features 2 different modes that you can try. The first one is the solo gameplay mode, where your objective is to reach the finish line as fast as you can without falling down. The second one is the 2 player mode where you race against your friend as you try to be the first one to complete the race. To start the game, pick one of these modes. Next, select a car from different options. Drive your car, but be careful. If you fall down from the tracks, you'll have to start from the beginning of the level. Good luck!
If you want more of this game, then be sure to check the other title in our collection, Fly Car Stunt 4. Have fun!
Developer
RHM Interactive developed Fly Car Stunt.
Features
Colorful 3D graphics
Solo and 2-player modes
Different car options to choose from
Entertaining gameplay
Controls
While playing solo, use the arrow keys to control your car. During multiplayer gameplay, player 1 can use the arrow keys to control their car, while player 2 can use the WASD keys.