Play Now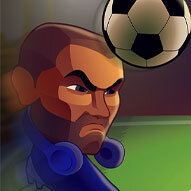 Football Heads invite you to show off your soccer skills! The tribune is cheering up with your name and the claps are flying in the air tonight. There will be only one winner at the end of this match, and it must be you. Your name will be written in football history forever. That's why you need to gather your courage and step into the field. If you are ready, may the best player wins!
You have read correctly. This match is between the heads only. But don't worry because these heads have got one foot to score goals! Today is the biggest day of your soccer career and you must be ready for the victory. In this fun sports game, your objective is to score more than your opponent in the given time. You can check your remaining time from the middle top of the game screen. If you are playing on the computer, you'd better get your fingers ready because you are about to conquer the keyboard. If you are playing on mobile, the controls are quite simple. Try to achieve as many trophies as you can so that you can unlock new customization features for your character. Upgrading custom items will increase your character stats as well. You can change your head, towel, foot, and some other decorations that will give you power. Let's click on the play button and start the game already!
If you want to continue with another exciting football game that is played with heads like this one, then be sure to check Head Soccer World Champion.
Developer
Inlogic Software developed this game.
Release Date
March 29, 2021
Features
2D colorful graphics
Character customization
Trophies to gain
Racing against time
Controls
"A" and "D" keys to go right and left. "J" key to jump, "K" key to speed up, and "L" key for higher scores.