Play Now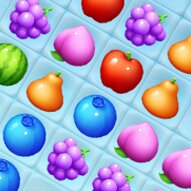 Keep your fruits organized as they grow to solve puzzles with Fruit Lines Saga! Move the little fruits as they appear, place them in lines to keep everything under control, and align them in fives to clean those lines! Match identical fruits, do not let them block the way to others, and break personal records while improving your logic skills!
Our farmer is restless because his farm is under what a professional would call a fruit infestation. Random fruits appear out of nowhere, and they keep multiplying until he has nowhere to move. He cannot even get inside his house nowadays. The only solution to this problem is to align fruits in fives to make them disappear. It may sound easy, but keeping enough space open to make moves while new fruits keep coming can be tricky. There is no time limit, so take your time to think about your next move. Think of this puzzle as a game of chest and use your strategy skills to avoid the inevitable end. Check the top of the table to learn the types of the incoming fruits. You can place grown fruits on the small ones if you act quickly enough. How long can you survive in a sea of multiplying fruits?
If you like this fun brain workout, you can check out our other Puzzle Games and find more games like this!
Developer
BestGamesFreePlay.com developed Fruit Lines Saga.
Release Date
July 8, 2022
Features
Easy to play
Infinite gameplay
Improving puzzle-solving skills
Unlockable boosters
Available on mobile devices
Controls
You can use your mouse to play this game. Click on a fruit and then click on the tile you want to place it.