Play Now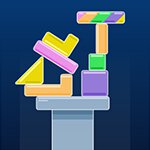 In Geometry Tower, it's time to build a tower made from different shapes! While using building blocks to build towers is more of a toddler game in real life, this digital version invites everyone who loves shapes to have some fun. Use rectangles and other shapes to build a tall enough tower!
Featuring 2 different modes, the fun never ends in this game. Pick a mode form the main menu to start. Your first option is the regular mode. There are 20 different levels that you need to complete in this mode. On each level, you should build a tower to reach the target height by stacking different shapes on top of each other carefully. You can earn up to 3 stars on each level by collecting them. The second mode features an endless level. You have to build a tower as high as you can to earn a high score in this game mode. When you begin, you'll be given a random shape to place. Use your mouse to move the shape left and right. When you decide where to place it, click on the screen to drop it on the platform. You can see the next shape you're going to use in the top left corner. If a shape loses its balance and falls from the tower, you'll lose. Enjoy!
Test your skills and challenge yourself in our other popular title, Square Bird next. Have fun!
Developer
Qky Games developed Geometry Tower.
Release Date
June 8, 2018
Features
Colorful 2D graphics
2 different game modes
20 different levels to complete
Intuitive controls
Controls
You can use your mouse to play this game.