Play Now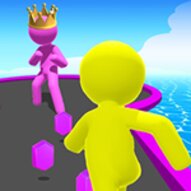 Run as the colorful giant you are in Giant Rush! Adapt to your color and run as fast as you can. Don't forget about the diamonds and try to grow big. Let's see if you'll get the gist of this fun running game.
This is a 3D hyper-casual game with a cute, colorful giant stickman as the main character. You are running on a long platform as this giant. All you need to do is to run straight and collect the diamonds around. The more diamonds you collect, the easier you can unlock new skins or power-ups. These power-ups are especially important since you can enhance your kicks and speed. While running on the platform, the main thing you should work on should be to collect other smaller stickmen the same color as you. This will grow you in size and this way you will be able to fight the enemies waiting for you at the end of the platform. Don't forget that there will be some surprise bonus levels and boss enemies at some levels, too!
If you enjoyed this interesting 3D game, you might want to check out our collection of free and online running games to play similarly fun hyper-casual 3D games!
Developer
TapNation developed Giant Rush!.
Release Date
July 18, 2022
Features
• Colorful 3D graphics
• Multiple levels to complete
• Boss enemies at some levels
• Upgradable skills
• Skins to unlock
Controls
Drag the cursor to move the character and get the collectibles.