Play Now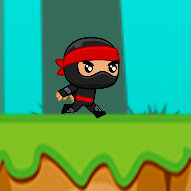 In Jump Ninja Hero, run ninja run! The world isn't made for you after all and they are dying to stop you! But the secret is inside of you and you have what it takes to survive through this experience. Are you ready to prove that you are the best of the best and nothing can stop you?
A ninja has to be brave and agile. We have the perfect adventure for you to prove that you have mastered those skills. In a land full of mysteries, dangers and shurikens, can you run fast enough to avoid all the troubles that await you? In this game, your objective is to run as far as you can and avoid the shurikens coming your way to survive. The mission may seem hard to you, but don't worry, because the controls are easy! Your character will start running on his own. To dodge these weapons, you need to have fast reflexes and react quickly. These shurikens will be thrown at you from different places. If it from below, click on the right side of the screen to jump. Sometimes more than one blade may come towards you. Then you can click two times to double jump and click and hold to glide. To avoid the ones that are coming from higher places, click on the left side of the screen to slide. Try to avoid as many as you can to beat your own high score. Have fun!
If you want to play another game like this one, you should check out our collection of online running games . Enjoy!
Developer
Funnygames developed Jump Ninja Hero.
Release Date
December 13, 2018
Features
Fun and challenging gameplay
Intuitive controls
Nice 2D graphics
Many obstacles to overcome
Controls
You can use your mouse to play this game.