Play Now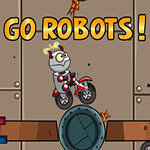 With Go Robots, get ready for a futuristic adventure in which you should use your logic to protect two cute robots while on their way to meet with their loved ones. Only you are smart enough to solve these mini puzzles and ensure the security of our characters. By using only your mouse, are you ready to see what kind of obstacles you can overcome?
There is a dangerous journey ahead but the hope of seeing their loved ones worth all the troubles. You should help these two robots finish their journey safe and sound. The objective of the game is to make the robot characters reach the portals at each level while avoiding the obstacles. This fun puzzle game provides 25 levels with the same objective. But at each level, the obstacles may vary, and you may have to use more creativity to solve the problems. If you get stuck, you can restart the game by clicking on the restart button situated at the right top of the screen. You can pause the game by clicking the button situated before the restart one. You may need to move simultaneously for both characters in some levels. Now, step into this mechanic world and show everyone how smart you are!
If you are looking for another adventure to solve like this one, then be sure to check Adam and Eve Aliens.
Developer
Kizi developed this game.
Release Date
March 30, 2018
Features
2D colorful graphics
2 cute robot characters to control
25 adventures to solve
Entertaining and addictive gameplay
Controls
You can use your mouse to play this game.