Play Now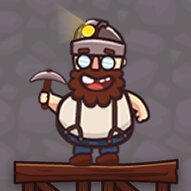 Use your strategy and aiming skills to fight against time with Gold Mine. Keep the incoming rows of mines away from you, break blocks by using your pickaxe just like miners do, and go on an endless run with the increasing challenge! Survive as long as you can while adding to your score to beat your best!
As mining itself requires high effort and complex skills, you need none of those. You will do the planning part, while our miner will be the strong muscles that take the sweating. The blocks that keep coming at you at high speed can only be destroyed at least in doubles. Aim at two or more blocks stacked next to one another and shoot! You have only a few seconds before the next row comes down! Of course, keeping a few rows makes things easier by giving you more options, but keeping them too close to you can cause panic and ultimately failure. Losing the game also means losing all the progress; you have to start over to reach your last point and pass it to break a new record. Get better both at aiming and strategizing to master the secrets of mining!
If you are into games of all sorts that require logic, you can check out our Puzzle Games by clicking here.
Developer
Famobi GmbH developed Gold Mine.
Release Date
April 20, 2022
Features
Colorful 2D graphics
Simple and cute theme
Easy controls
Addictive gameplay
Available on mobile devices
Controls
You can use your mouse to play this game.