Gorillas Tiles of the Unexpected
Play Now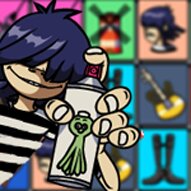 In Gorillas Tiles of the Unexpected, it is time to play a challenging puzzle game! Keep your eyes on the screen and have fun matching the same tiles. It's time to put your skills to the test with a variety of designs and three difficulty levels. Let's try if you can remove all of the tiles now if you're ready! Have fun!
Welcome to this fantastic puzzle game that will have you hooked to your screen for hours! You've come to the right place if you want to clear your thoughts and relax a little. All you have to do now is remove the matching tiles from the board and clear it. There are three challenging levels is waiting for you. Even if you fail, you can start over at the beginning and have more fun! When you first start the game, you will see tiles with various designs on the screen. The goal is to clear the screen by clicking on the tiles that match. There should be at least two matching tiles next to each other. When there are no more matching tiles, the bomb mode will be activated. Remove a tile with the bomb by clicking on it. The game is ended when the bomb bar runs out. You can use the hints at the bottom of the game screen if you get stuck. Best of luck, and have a great time playing!
Do you want to play more games like this one? If so, take the different challenges in our collection of free and online puzzle games.
Developer
Feig Ltd. developed Gorillas Tiles of the Unexpected.
Release Date
August 3, 2021
Features
2D colorful graphics
3 challenging levels to complete
Simple controls
Fun and engaging gameplay
Controls
You can play this game with your mouse or touch controls.