Play Now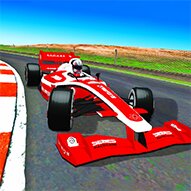 Participate in the worldwide professional car races, represent your team, and complete all laps in first place with Grand Extreme Racing! Drive the cars of the best, get paid for your victories, and level up to better teams with faster cars! Enjoy the realistic driving experience, amazing 3D graphics, and exciting world-cup tournaments!
The world-cup racing season is on, and you are invited to join! Travel around the world through tournaments, discover new race tracks and countries, and bring victory to your team! Choose your car, upgrade the stats, and race on! Follow the track from the top left of your screen to ready yourself for turns and other racers. Pull your foot from the gas before taking turns to slow down slightly so you can control your vehicle easier. Do not let other players pass; block them by positioning yourself in front of them. You can also push other players to the sides to slow them down. Complete races in the first place to earn cash prices and use your money to buy cars and upgrade your vehicle's tires, engine, brakes, handling, and turbo stats. Each upgrade will make your car faster and the controls less tricky. Good luck!
If you like this professional racing simulation, you can check out Grand Nitro Formula and try your chance at another professional tournament!
Developer
RHM Interactive developed Grand Extreme Racing.
Release Date
July 6, 2022
Features
Amazing 3D graphics
Realistic driving experience
Challenging tracks in different locations
Unlockable racing cars
Upgradable stats
Controls
"W, A, S, D" to move, shift for nitro boost, spacebar for brakes, "R" to reset the car.