Play Now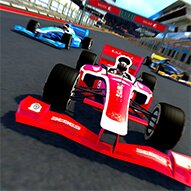 Grand Nitro Formula offers you a realistic rally experience with four game modes taking place in ten uniquely designed racetracks! You can choose between four difficulty options, customize your car, practice on your own or climb your way up in championship races! Unlock luxurious racing cars and take your driving performance to the top!
The main menu gives you three graphic options from low to high quality. Adjust them to your liking, and let's decide between modes! Time Attack mode is a solo challenge in which you must complete the tour in a given time. You can change your vehicle in the next menu if you have enough amount and upgrade your car in terms of performance. The next menu has track options with different amounts of money prizes changing with the difficulty. Winning challenges rewards you handsomely, so it does not take too much effort to upgrade or buy new cars. The practice option does not award you with money, but you can sharpen your skills here indefinitely! The biggest challenge of the game is the Championship. It consists of ten races that constantly get more difficult. Win all ten races to restart a harder version.
If you like detailed and realistic racing games, you can check out Street Racer Underground and take the challenge out on the streets!
Developer
RocketGames developed Grand Nitro Formula.
Release Date
April 5, 2022
Features
Colorful 3D graphics
4 game modes
Unlockable content
Difficulty options
Controls
You can use the arrow keys to move and "F" to use nitro.