Play Now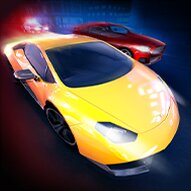 Street Racer Underground is calling you for a speedy duty! You are one of the best car racers in the city who has a long list of criminal records. It is time to go back to the fields now! The police can arrest your hands, put your body into prison but can never get your soul! You must show everybody who the real boss is here. If you are ready now, put the pedal to the metal!
Your story begins in these streets. The best racer, you, were arrested by the police one night. But swore to take revenge from the city with the smoke of his car's motor. The day is today, and you have to turn back to the fields. Thanks to your friends, you have a new brand car with which you can outpace all the other machines in this city. You can customize your vehicle and upgrade the stats from the main menu. You must earn some money, though! Take the endless game mode to improve your skills and learn the rules. Click or tap on the left and right sides of the screen to move your car. Be careful about the traffic! You can attend the races and earn some good money. But you have to pay the entry fee first! Don't forget that your biggest opponent is yourself and nobody else. Have fun and hit the road!
If you are up for another 3D amazing racing game like this one, then be sure to check Fly Car Stunt 4 by clicking here.
Developer
Inlogic Software developed Street Racer Underground.
Release Date
April 13, 2021
Features
3D colorful graphics
Vehicle customization and upgrading stats
2 game modes as endless and race
Simple controls
Controls
You can use your mouse or finger to play this game.