Play Now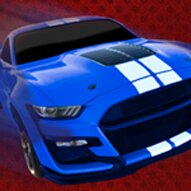 In GT Ghost Racing, it is time to show off your racing skills! Choose your vehicle, race across the various tracks, and prove you're the greatest of the best by competing against the ghosts of racing legends! Are you ready to beat everyone that comes your way? Have fun!
Forget all the racing games you've played so far! This time we will have a bird's eye view of the racetrack! You're racing against the ghosts of racing legends in this fun and exciting racing game. Your ultimate goal is to be the first racer to cross the finish line by outrunning all the other opponents. It won't be easy, but we'll be there with you! To move your car, use the arrow keys on your keyboard. The first thing you'll do is select the vehicle that most suits your car preference. Then select an unlocked track to begin driving! There are 8 cars, 9 tracks, 27 stars waiting for you! You earn stars when you win the game. You can use your stars to unlock additional tracks and challenges in the game. As you progress through the game, the difficulty level rises. If you're ready to take to the roads, then let the race begin! Good luck!
If you want to play more racing games, and try another one similar to GT Ghost Racing, then be sure to check Top Speed Racing 3D, too.
Developer
RodaGames developed GT Ghost Racing.
Release Date
June 3, 2021
Features
2D colorful graphics
Lots of tracks to unlock
Several vehicles to drive
Fun and addictive gameplay
Controls
Keyboard: Arrow Up = Accelerate, Arrow Down = Break / Reverse L/R, Arrows = Steer Left or Right. Touchscreen: On-screen buttons