Play Now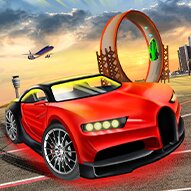 Top Speed Racing 3D invites you to show off your driving skills! Are you ready for a 3D racing game in which your only opponent is again yourself but nobody else? Featuring its high-quality colorful graphics that allows you to enjoy a driving simulation and car customization, you will be a real addict to this game. If you want to jump into this speedy world with your latest fashion sports car, let the game begin now!
You are about to be the only ruler of the roads from now on. You can travel around the city, discover the paths, and show off your driving skills. There is nothing that can stop you here. When you start the game, you can see the customization features and upgrades from the main menu. Looks amazing, right? But as with everything else, the customization and upgrading options have a cost too! To earn money in the game, you should start the engine in no time. There are various targets and missions to complete. Some of them will test you with your timing, some will with your drifts, and other skills. While you complete these targets, you can make some earnings. But the real issue is the reward that you'll win after these missions. You can change the appearance of your car and upgrade its stats with your earning. If you are ready now, let's hit the roads!
If you are looking for another 3D racing-themed driving game as fun as this one, then be sure to check Street Racer Underground by clicking here.
Developer
Great Games developed this game.
Release Date
April 21, 2021
Features
3D colorful graphics
Vehicle customization and stat upgrades
Following the LEDs
Targets and missions
Controls
Arrow Keys or WASD to drive. - Race, Break, Left & Right Space - Break LShift/RShift - Nitro