Play Now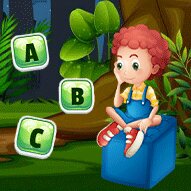 In Guess Animal Names, it is time to test your knowledge about animals. Animals all around the world gathered here to see how well you know the world around you. Are you ready to befriends these incredible animals while testing your knowledge about them?
Head into the forest full of wondrous creatures that are waiting for you to start this fun, puzzle adventure! Animals from different habitats and climates are waiting for you to name them correctly in this puzzle game. All of these animals may be difficult to see together in real life, but the controls of this game are not! All you need is your mouse to play this game. Since there are many animals in the line, let's start now! You can see the picture of the animal in the upper right corner of the screen. If you know the answer, click on the letters and spell the name correctly. If you click on the wrong letter, you will lose one of your five lives. When you lose all of your lives, you will need to try again. If the name of the animal doesn't come to your mind immediately, you can click on the hint button. As the game progresses, you may see animals you may never have heard of. Do you think you can guess them all away and learn more about the beautiful world you live in?
Animals aren't the only ones who are waiting to be given a name. Play Find Fruit Names and prove oyur knowledge on other topics. Enjoy!
Developer
Lof Games developed Guess Animal Names.
Release Date
June 23, 2021
Features
Many levels to complete
Nice 2D graphics
Fun and addictive gameplay
Intuitive controls
Controls
You can use your mouse to play this game.