Play Now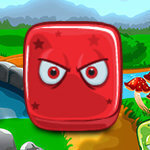 In Gummy Blocks Evolution, get ready to play with blocks of all colors! These block characters are very fun to play with. They're waiting to be placed on the board, so you better start playing the game now!
The main objective of this game is to place the blocks into the grid to fill and clear columns and rows. You can play with your mouse. To start, pick one of the three different game modes from the main menu. The first mode is called the classic mode. In this, you try to complete the objective without any extra features. The second mode is the advanced mode. This mode introduces different power-ups that you can use. Clear 2, 3, 4, or more lines to get one of the 4 power-ups. The last mode is called the bomb mode. While playing in this mode, a TNT block will appear randomly. You'll have 9 moves to complete a row or a column. If you fail, TNT will explode, and you'll lose the game. In each of these modes, click on the block at the bottom of the screen, and drag them to the board to place them. You can track your score from the top of the screen. The game ends when you run out of empty spaces on the board. Enjoy!
For similar game, check our collection page of online puzzle games. Have fun playing!
Developer
Code This Lab developed Gummy Blocks Evolution.
Release Date
August 9, 2019
Features
Colorful 3D graphics
3 different game modes to play
Entertaining gameplay
Intuitive controls
Controls
You can use your mouse to play this game.