Halloween House Decoration
Play Now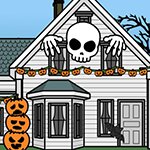 Halloween House Decoration will make your wishes come true for this spooky holiday! Are you enough of going to the market and getting lost among all the stuff? No worries! To create the perfect house with several creepy decorations is so easy in this fun Halloween game! Choose your favorite horror film and get to work! You can even select your own house and welcome the guests now!
If you haven't decided who you will become this year, this fun game can give you some ideas about your costume matching with the theme of the house! To start playing, you should click on the play button from the main menu. Then you will see 6 different houses to choose. When you decide, click on the house to start decorating. At the bottom of the screen, check the four categories. Each one has multiple decoration options to put different parts on the house. You can try to match the themes to create a coherent look. For example, you can select the items all matching the witch theme. If you want to delete the current decor, you can click on the cross button on the left side of the screen. Even if you change your house, your design will remain. At last, don't hesitate to take a photo of your new creation by clicking on the photo button at the right top of the screen. Enjoy playing!
Be sure to check our collection of free and online Halloween games by clicking here to find out more tricks or treats!
Developer
Dress Up Who developed this game.
Features
2D colorful graphics
6 houses to choose
Various decorations to use
5 different horror movie themes
Controls
You can use your mouse to play this game.