Play Now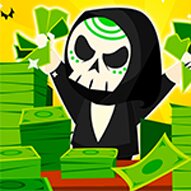 Join Halloween Idle World and meet creepy characters who like to lurk in shadows or fly over the moon on a magical broomstick! The full moon lights up the sky and the castle rests on the hill. Can you expand the land by using your creepy coins in this addictive idle game?
Ghosts, ghouls, skeletons, zombies, and many more creatures are wandering around. Don't be scared, they are friendly! Your objective in this game is to unlock all of the 7 creatures and their lands. You can do this by collecting enough coins. When you first start the game, your only income is golden skull coins. Click on the castle to earn coins. When you earn enough coins, you can upgrade your castle so that you can earn more coins per click. You can also start to make money automatically. Next, you can use your coins to unlock extra land, the pumpkin field. These Jack-o-lanterns also count as a currency, so invest in it by upgrading them too. You can unlock other characters as you expand your land. Check on the characters to see unlocking requirements. You can leave your game open and keep yourself busy with other things! Even if you don't actively play the game, you can earn coins and can unlock all the characters! Have fun playing!
Check our Halloween games collection to play more games like this! Enjoy!
Developer
DAB3 Games developed Halloween Idle World.
Release Date
October 12 ,2021
Features
Colorful graphics
Addictive and fun gameplay
7 different characters to unlock
Intuitive controls
Controls
Click on the screen to play on the desktop or tap on the screen to play on mobile devices.