Play Now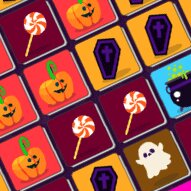 Halloween Tiles welcomes all the creepy characters and people who enjoy the spooky season! This fun puzzle game will tickle your brain as you try to solve the levels, and send shivers down your spine with its monsters. Are you ready to embrace the ghosts, ghouls, and all the creatures?
These tiles are spooky, so hold onto your socks! The night sky brightens as the full moon rises from the horizon, and shadows create illusions! Your objective in this game is to complete each level by removing all the tiles in them. You can play with your mouse. On each level, you'll see tiles on the board. Click on the group of 2 or more of the similar ones to remove them from the board. You pass the level when you remove all the tiles. As you pop the tiles, you'll earn pumpkin bombs. These can be used when you're left with single tiles. Explode those tiles, but pay attention to where you place the bombs. Running out of bombs when you still have tiles around results in failure. Have fun playing!
Embrace the thrill of Spooktober with our many menacing and creepy characters in our collection of free and online Halloween games! Play for free and online at Yepi now! Enjoy your time here!
Developer
MathNook developed Halloween Tiles.
Release Date
October 7, 2021
Features
Colorful 2D graphics
Intuitive controls
Entertaining and addictive gameplay
Different levels to complete
Controls
You can use your mouse to play this game.