Play Now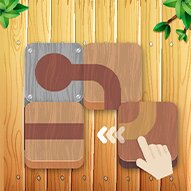 Welcome to a new kind of brain gymnastics with Happy Connect! Fifty levels of increasing challenge carved on wood are waiting for you. Defy your friends or your own mind, this long puzzle adventure is going to give you a hard time. Do not worry about the weird circles and lines as you will soon learn about them all.
Every level gives you two or more circles you have to draw a line between. The goal is to connect them all with no interruptions. There are some tiles you can't move, so you use whatever you have. Hold the wooden tiles you want to move and slide them. It is better to plan everything before making any moves because you have to clean the path you want to move your tiles along. There might be some unnecessary tiles; you can get them out of the way. You are always free to retry, so if things ever get frustrating just close your eyes, take a deep breath, count to ten, and click on restart. After moving the tiles too much on a certain level, restarting also helps you see things had not noticed before and might help you sort things out in your head. Remember, a new point of view is the best help you can get in this puzzle.
If you enjoy this game, you can try other puzzle games by clicking here.
Developer
2play developed Happy Connect.
Release Date
December 2, 2021
Features
Simple and relaxing colors
50 unique levels
Increasing challenge
Easy controls
Available on mobile devices
Controls
You can use your mouse to hold and drag tiles.