Play Now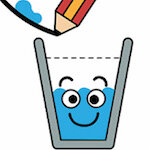 In Happy Glass, our fragile but enthusiastic character can't wait to be filled to the brim with water. Grab your pencil, and get ready to draw to ensure that all the water flows right into the glass. The tap is about to be turned on, so be quick! Can you pass all the levels?
A glass' job is t be filled with different liquids. The main character of this game loves its job, so let's help. Your objective in this game is to fill the glass with water up to the line. You can play the game with your mouse so click on the play button to start. Next, pick a level to play. There are 100 levels in this game. In the beginning, only the first level is available, but you can unlock the rest one by one. To play, you should draw a line with your pencil to make the water flow to the glass. At the top of the screen, you can see your ink meter. You earn stars at the end of each level depending on how much ink you've spent. You pass a level when you fill the glass to the line, but lose if you can't. Good luck!
If you enjoy challenging yourself, then be sure to check our collection of online puzzle games by clicking here. Have fun!
Developer
Lion Studios developed Happy Glass.
Release Date
August 28, 2018
Features
100 different levels
Nice and 2D graphics
Fun puzzles to solve
Can draw a line freely
Controls
Use the left mouse button to draw a line.