Play Now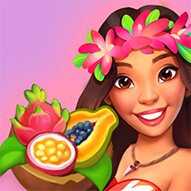 Get your free Hawaii vacation with Hawaii Match 3! Sip your cocktail next to the sea while enjoying a puzzle of exotic fruits and flowers! Match objects in this relaxing atmosphere and break score records! Let's take a break from the monotonous daily life and jump into this journey under the Hawaii sun!
Try matchless combos, earn from your points, and use your gold on life-saving in-game boosts! You will lose yourself in the increasing challenge of limited moves and level quests. Start with the tutorial levels and learn the basic combos. You can see your moves and the level's score goal above. Running out of moves or time ends the game until you come back for more and try again. Each level rewards you with one to three stars upon completing, which changes with the points you make. You can unlock surprise features, daily and lucky rewards, and bonuses as you level up further. Move forward on the map, get new tasks at every stage and discover boosts. Use tridents and swap boosters when you are stuck to fix your mistakes and have the upper hand. Complete thousands of levels to discover this exotic land of puzzles!
If you like matching games, you can check out Super Candy Jewels and deliciously continue your journey!
Developer
SOFTGAMES – Mobile Entertainment Services GmbH developed Hawaii Match 3.
Release Date
May 10, 2022
Features
Vibrant colors
Relaxing theme
New challenges at every level
Evolving and addictive gameplay
Available on mobile devices
Controls
You can use your mouse to play this game.