Play Now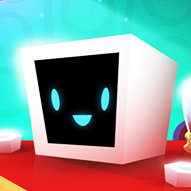 In Heart Box, are you ready to contribute to the science? Crazy scientist Dr. Rat finally invented his biggest success, but it has some flaws. This box is always out of battery and, it can be charged only with a special battery case. So, your task is to ensure the box reaches the charging case. Now, take your seat and start the game!
As one of the most important missions of the science world, it is your job this inventory box reaches its charger. Your objective in this fun puzzle game is to make a good strategy for the box to get charged by finding a way to do so. In each level, you will face challenging puzzles to be solved. You should remove the boxes or replace the other items by using your strategy. If you fail, you can restart the level as many times as you want. The more you progress in the game, the more challenging the levels get. The game consists of 4 stages, and each includes 40 levels. You can change your game mode at the top of the screen to add more challenges like time limits. You can also solve the community levels all around the world. By clicking the "level editor" at the bottom of the main menu, create your own QR levels to share with other players. Customize your box from the in-game shop with your earnings. Good luck and be creative!
To find out more brain burning and fun games like this one, be sure to check our collection of free and online puzzle games and enjoy the challenges!
Developer
RAD BROTHERS developed Heart Box.
Release Date
February 17, 2018
Features
160 main levels to complete
Community puzzles as an option to play
Customizing character from the in-game shop
Entertaining and addictive gameplay
Controls
You can use your mouse to play this game.