Play Now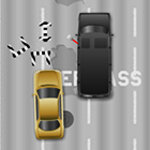 In The Heist, get ready to build your crew and complete amazing missions to earn reputation. The city offers many opportunities for risk-takers, and you're one of the most ambitious persons living there. Do you have what it takes to complete various missions and evade the authorities?
Being a kingpin is not an easy job, and you need credits to make others join your team. The objective of this game is to complete various missions and expand your crew with talented individuals. Start the game by clicking on the play button on the main menu. This will take you to the hideout. Here you have people that you can interact with. One of them will give you missions, the other will find specialists for your crew, and the last one provides upgrades for your vehicle. Completing missions rewards you with credits, respect, and gang power. These are used for improving your crew, hiring new people, and more. You start each mission with a specific amount of credits. Hitting cars and accidents reduces this amount, so drive carefully. Getting rid of cops gives you extra credits, so keep your eyes on the road. Show others that you run the business in this city! Have fun and good luck!
If you enjoy escaping from the cops just like in the movies, then you should check our other title Car Rush. Enjoy!
Developer
Agame developed The Heist.
Release Date
April 24, 2017
Features
Different missions to complete
Various people to hire to expand your team
Entertaining gameplay
Colorful 2D graphics
Lots of upgrade options
Intuitive controls
Controls
Use your mouse to navigate through the menus. Use the arrow keys to control your vehicle, and the SPACE BAR to use your weapon.