Hello Kitty And Friends Restaurant
Play Now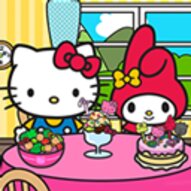 Hello Kitty And Friends Restaurant brings you the chance to cook for your friends and join them in this feast! Hello Kitty and her fluffy friends want to eat at your diner, but there is one small problem: they can't decide who will do the cooking. You cut the discussions with an "I will", and now they all have different requests. It's okay; you have the perfect kitchen and every recipe!
After welcoming your friends, you can start moving around the tables and get your first order. Place the vegetables on the plate, slice the meat and tomatoes, put the sauce on the bread, and get to the decorations. Decorate this delicious meal with peppers and crackers, and here! You just prepared the yummiest toast! Now is the relaxing part. Go back inside and sit next to your friends to eat with them! You can see their thoughts about your cooking after every meal! Run around in a lovely restaurant, get your friends' orders, and cook from a wide menu including soups, pizzas, toasts, salad bowls, and icecreams! Deal with every little detail of your orders, you can even open cans! See and learn how your favorite foods are cooked!
If you like Hello Kitty and cooking, you can check out Hello Kitty and Friends Xmas Dinner, and keep cooking different combinations in this restaurant on Christmas!
Developer
SANRIO developed Hello Kitty And Friends Restaurant.
Release Date
February 10, 2022
Features
Adorable Hello Kitty characters
Detailed cooking
Meal options
Available on mobile devices
Controls
You can use your mouse to play this game.