Hello Kitty and Friends Xmas Dinner
Play Now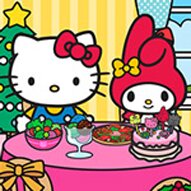 Hello Kitty's restaurant is getting ready for the merriest time of the year, and you are invited to help them in Hello Kitty and Friends Xmas Dinner! These four close friends want to have a delicious Christmas dinner at Hello Kitty's restaurant, however, she has a lot to do, and she wants to spend tonight joining her friends. Can you do this one thing for our cute friends?
All customers will have bubbles on their heads that show what they would like to have. You can choose any meal and then touch its bubble to start cooking. You will be given little hints and all the ingredients you need to make the perfect recipe. You don't have to hurry or panic, for this is a space of friendship. Take your time, cook, bake, and decorate your food however you would like to. Serve an extensive menu ranging from cakes to pizzas. Join the process of chopping, mixing, grating, baking, and finally dining. Yes, you can also eat with your friends and feed them! Watch their reactions and witness the influence of your cooking skills on these adorable characters' faces. Join the celebration of this beautiful day with Hello Kitty and her friends!
If you like cooking, you can try Yummy Toast and start your own restaurant!
Developer
SANRIO developed Hello Kitty and Friends Xmas Dinner.
Release Date
December 20, 2021
Features
Colorful 2D graphics
Cute characters
Detailed cooking experience
Easy to play
Appropriate for all ages
Available on mobile devices
Controls
You can use your mouse to play this game.