Help Me: Time Travel Adventure
Play Now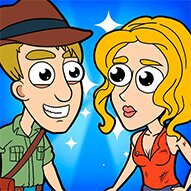 Help our guy get out of troublesome situations alive with Help Me: Time Travel Adventure! Face scary mummies, get arrested, and escape from the prison! Awake the mystical ancient Egypt powers, get help from cats under the most absurd circumstances, and find your way out of every danger by solving puzzles!
Have you ever had one of these friends who always gets in trouble and calls you? This guy is that friend. He cannot stop looking for treasure chests in cursed temples and ancient tombs. Juggling luck and faith is his profession, and he loves thrilling encounters with wild creatures. All because he trusts you with his life. So, today we will follow him through the temples of ancient civilizations, police stations, and bases of evil mafia members! Fate will give you two or three options at each crucial checkpoint, and you will have to make a decision. Work your logic and leave the rest to luck! Nothing is guaranteed when it comes to destiny, but you can always try again by paying some gold or starting from the beginning of the level. You can also watch a shot ad to retry without having to pay anything!
If you like this hilarious logic game, you can check out our Puzzle Games and find similar games!
Developer
Brosco Games developed Help Me: Time Travel Adventure.
Release Date
June 21, 2022
Features
Colorful 2D graphics
Mysterious and adventurous storyline
Funny characters
Addictive levels
Improving puzzle-solving skills
Controls
You can use your mouse to play this game.