Play Now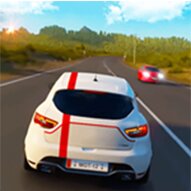 Test your speed limits in the open air with Highway Racer 3D! Try between unique and challenging game modes, unlock and ride luxurious cars, and customize them to all your heart's want! Speed up on an endless highway, drive against the heavy traffic, and break new records by surviving the longest distance!
You can take a look at the car options before taking your first challenge. You start with a high amount of money, so the game allows you to try every combination and explore all there is to this thrilling experience! You can unlock a car, upgrade its features and add new boosts like nitro or a stronger engine, and change its physical appearance. You can choose a new color and change the tires. Now we can jump into the game modes and air conditions. To make this run even more realistic, the game offers you four main modes and three weather and lighting options. You can go with one or two-way roads, choose time attack mode, or challenge yourself with the speed bomb. The last thing to do before placing your foot on the gas is to choose the stage conditions. You have the day, night, and rainy weather. Good luck!
If you like this detailed 3D driving game, you can check out Police Endless Car and jump into a thrilling escape!
Developer
New Gamer developed Highway Racer 3D.
Release Date
April 1, 2019
Features
Amazing 3D graphics
4 game modes
3 stage options
Unlockable and upgradable content
Controls
You can use the arrow keys to drive, the left shift for nitro, and the spacebar for brakes.