I'm not a Monster: Wanna Live
Play Now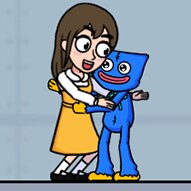 Solve mysterious puzzles to save a little girl's best friend with I'm not a Monster: Wanna Live! Have you ever wondered about the evil blue mascot's back story? He has one, and it is heartwarming! He used to live with a little girl who happened to be her best friend before they kidnapped, tortured, and dumped him in an abandoned toy factory. Can you help him return home before he loses his mind?
Teleport back to the days it all started. Our little hero was living with her favorite toy until one day she lost it. The living doll was kidnapped by an evil corporation and was being kept in a small cell under inhumane conditions! The little girl wanted to save him, but that was not going to be that easy. First, she has to solve a series of puzzles and activate contraptions to unlock the cells, while the mascot should be secured and provided with a safe path toward his best friend. This is where you come to their rescue. Use the girl's red and blue hands to activate mechanisms, clear obstacles, and unlock the cell doors. Avoid mines and other threats to keep both characters safe. Bring the old friends back together by completing more than a hundred levels in three game modes!
If you like solving mysteries, you can check out our Puzzle Games category by clicking here!
Developer
Bin Studio developed I'm not a Monster: Wanna Live.
Release Date
February 21, 2022
Features
Colorful 2D graphics
Three game modes
Unlockable content
Available on mobile devices
Controls
You can use your mouse to play this game.