Play Now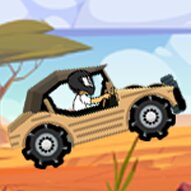 With Jeep Driver, get ready to hit the roads! How much of a good driver are you? It is time to figure it out now! Test your driving skills in this amazing car game. You are driving in the wild west with a new brand sports jeep. What else could be more fun than that? Of course, a flipping jeep! That is true. Your car can flip too. If you want to see its other features, then get on the seat and start the game now!
With this monster vehicle, the roads are all yours! Driving in the wild west may be difficult for you a little. But once you get the rules and learn about the paths, nothing can stop you! In this fun driving game, your objective is to complete the levels by reaching the finish line. For each level, you should collect 3 stars. You collect these stars according to the coins you grab on the way and the damage you make to your vehicle. There is a damage bar at the right top of the game screen. You can track it to go more carefully. Use the keyboard arrows to move the car. You can also jump by pressing the up arrow when it is necessary! Use your earnings to customize the jeep according to your taste in cars. Have fun driving!
Enjoyed driving a jeep? We have many other options if you are up for trying! Check Dangerous Speedway Cars by clicking here to feel the thrill of your trips.
Developer
JulGames developed Jeep Driver.
Release Date
July 29, 2021
Features
2D colorful graphics
30 challenging levels to complete
Vehicle customization from the in-game shop
Entertaining and engaging gameplay
Controls
Use the WASD keys or arrow keys to drive.