Play Now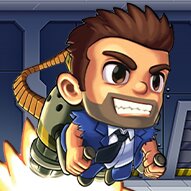 With Jetpack Joyride, get ready to fly high! You have an important mission to complete. You are planning to take control of the ongoing attack in the laboratory. There will be electricity, rockets, and fires on the way. Don't be afraid and dodge all the obstacles by passing around them in the air. You can destroy all the scientists and increase your luck to stay alive! If you are ready now, get your jetpack and jump into this thrilling adventure now!
In this fun adventure, you are a man in a suit. You are cool and brave. That is why you are assigned to this important mission. You must get in the laboratory, pass all the sectors, and dodge the obstacles waiting for you inside. In this fun action game, your objective is to survive as long as you can to get high points. Take control of your character with your mouse and click to activate the jetpack. You should be flowing in the air to avoid all the obstacles. When you release the button, the jetpack deactivates itself. Try to collect all the coins that you find on the way. You will encounter some icons with tools on them. Collect them to get boosters and power-ups. The scientist won't hurt you, but you can hurt them with the fire of your rocket. Do you have what it takes to discover all the sectors and get out of this lab?
If you are up for more dangerous adventures where you'll need your courage as in this one, then be sure to check our collection of free and online action games and browse more fun titles.
Developer
Halfbrick developed Jetpack Joyride.
Release Date
July 15, 2021
Features
Colorful 2D graphics
Rainbow colored boxes to collect
Intuitive controls
Fun and addictive gameplay
Controls
You can use your mouse to play this game.