Play Now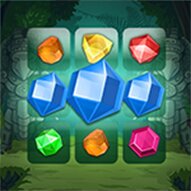 Get ready to be blinded by the shiny gems of Jewels Blitz 3! These hypnotizing valuable crystals will give you the puzzle experience of your life! Match the identical jewels in groups, align more than three to make super combos, and put booster gems into the arena! Use your imagination to win hundreds of levels full of mysteries!
The saga of shining puzzles continues with the third game of the series! This time, we find ourselves in a Maya temple, solving puzzles to find answers. You can jump right into the atmosphere and start swiping gems while the tutorial guides you through the halls of ancient mysteries. Follow the quests on the left of the table. Passing the minimum requirements of these achievements is enough to complete levels, but getting extra points helps you get up to three stars from stages. Finishing levels is a good way to earn coins, but you can also log in daily for extra gifts and surprise rewards. Collect the items wanted from you by getting as many points as you can to earn the maximum gold you can get from that level. Use your coins to buy boosters, and don't be afraid to use them when you get stuck. Good luck!
If you like matching games, you can check out Candy Rain 6 and solve the sweetest puzzles!
Developer
Softgames-Azerion developed Jewels Blitz 3.
Release Date
May 2022
Features
Vivid colors
Exciting ancient temple theme
Daily and surprise rewards
Hundreds of levels and quests
Available on mobile devices
Controls
You can use your mouse to play this game.