Play Now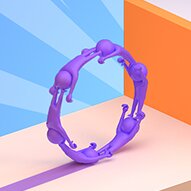 Join Scroll Run if you can! You are about to get into an exciting running adventure. You must gather your team and climb the walls of this mind-blowing island. It is not gonna be easy. But as long as you and your team are together, nothing can stop you! You can also unlock new skins for your members with your earnings to add more fun to the game! Let's get it started now, shall we?
Up for a 3D running adventure! If so, you are so at the correct place! In this amazing adventure, you are about to take a path that has no going back. Your objective is to reach the finish line by collecting as many members as you can. When you start the game, your character starts running. Swipe your mouse or use touch controls to control the character. You will see same-looking members on the way. Collect them to pass through the walls and gaps. Only if you have enough members, you will be able to pass to the other side of the path. Also, you will be losing that number of members. Collect the coins spread on the way so that you can unlock new skins from the in-game shop. You get points according to the number of members you bring to the finish line. Good luck!
Bored of 2D games and not able to show off your skills? Be sure to check our collection of free and online skill games by clicking here to find what you really want!
Developer
YAD.Com developed Join Scroll Run.
Release Date
August 2, 2021
Features
3D colorful graphics
Several levels to complete
In-game shop to unlock new skins
Fun and addictive gameplay
Controls
You can use your mouse or touch controls to play this game.