Play Now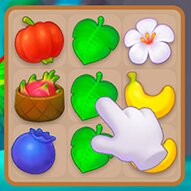 In Jungle Match, the endless Green is waiting for you! Get ready to dive into the dozens of challenging levels. From monkeys to parrots and other cute denizens of the jungle, many different characters are waiting for you! Can you complete all the levels of this addictive and colorful puzzle game?
The jungle hides many wild animals but also, you can find sweet and juicy fruits in there! Keep your eyes on these delicious fruits as your objective is all about them! You need to complete different tasks in each level to complete them. Sometimes you'll have a single task and sometimes more than one! These tasks usually involve you removing a certain amount of fruits from the board. To do that, click and swipe the fruits and try to create a line of three or more of them. Lining up more than three fruits will yield a superfruit, which can then be combined with other fruits to clear more fruits! Sometimes you'll need to remove boxes. To do that, you should remove the fruit placed in them. Feeling stuck? There are boosters you can use! these have limited use so think well before spending them. You start the game with 5 lives, and you lose one if you can't complete a task because of running out of your moves. Have fun playing!
Check our collection of other addictive and challenging puzzle games collection next! Click here to start browsing!
Developer
Softgames-Azerion developed Jungle Match.
Release Date
September, 2021
Features
Colorful 2D graphics
Dozens of levels to complete
Intuitive controls
Addictive and entertaining gameplay
Different boosters to use
Controls
You can use your mouse to play this game.