Play Now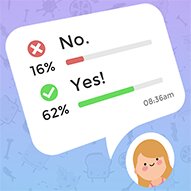 Answer some questions to test your knowledge in Just Vote! There will be a series of questions in this game and you are expected to answer all of them. But don't panic. These are not the type of questions to study for! Let's see what awaits you!
In this game, you will be seeing a series of questions to answer based on your gut feelings. Your aim is to guess the most popular answer to these questions. They are multiple-choice questions and are usually very easy. So, chances are, you won't be seeing some algebra there! Instead, you will see questions asking some basic objects or what sports are shown in the picture. If you guess a popular answer that is usually guessed wrong correctly, you will be earning more points! Let's see if you can handle this game's system and be one of the bests!
If you enjoyed this fun and interesting game, be sure to check out our puzzle games collection that includes many unique games!
Developer
Nevar Games developed Just Vote.
Release Date
March 14, 2022
Features
• Interesting multiple-choice questions
• Multiple levels to complete
• Need for guess
• Addictive gameplay
Controls
You can use your mouse to choose the options.