Play Now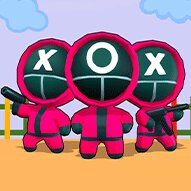 In K Challenge 456, it is time to fight for your life! You are trapped in an abandoned island with 456 other contestants and many guards. The guards are making you fight for your life and play games that end in death if you fail. So, get ready to take these games seriously and try to win!
You will have many levels of some series of games to play. You should win all the games that you play. If you can't win even one game, this will mean being eliminated from the whole game. These games are not easy ones, either. You should pass all the games such as 123, stop, Glass Bridge, Marbles, Tug of War, and Ppopgi. All these games will seem like a children's game at first. But don't be fooled and try to win all the rounds at all the levels to be the ultimate winner of this challenge and the money prize! Are you ready to discover these games one by one and fight for your life?
If you enjoyed challenging yourself in this series of exciting games, you should check out our other free and online adventure games here.
Developer
PL Studio developed K Challenge 456.
Release Date
December 21, 2021
Features
3D colorful graphics
Intuitive skills
Five different levels to challenge yourself
Challenging gameplay
Addictive levels
Controls
You can use your mouse to click on the options and play the games.