Play Now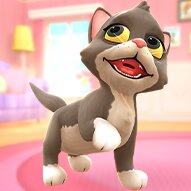 Now you can adopt cats online with Kitty Cats! These careless, purring balls of fur are the joy you need at home! Would you expect less from the sacred animals of ancient Egypt? No doubt they could see the wisdom in the eyes of the divine creatures that sleep sixteen hours a day. You will also love these adorable and playful babies!
Kittens or adults, tabby or black, they are equally beautiful! You can choose one of our six babies to pet, pamper, feed, and dress up! They are equally cute and needy. Some will want cat food (wet, of course), while some will ask for health care. After their primary needs are fulfilled, they will start looking for some fun. No matter how many toys they have, nothing can beat a neat, tight cardboard box or a new shoe with fresh laces. Listen to your kitten's meows of wisdom and give them their favorite toy. After the daily fun, you can see your cat swaying and glowing with joy. Now it's time for a little dress-up. As always, these babies have one or two ideas about clothes and fashion. Hear their words about what the costume of the day should be, and follow the orders. Congratulations, you can now get a picture of your best friend and keep this memory forever!
If you love animals and caring for them, you can help our furry friends in Pet Salon Kitty Care.
Developer
Xform developed Kitty Cats.
Release Date
December 3, 2021
Features
Colorful 3D graphics
6 adorable cats to choose from
Easy to play
Relaxing theme
Available on mobile devices
Controls
You can use your mouse to play this game.