Play Now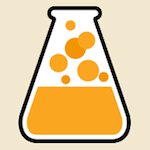 In Little Alchemy 2, continue to wield the power of creation at your fingertips. From the littlest speck of existence to the universe, you can create just about anything in between. Are you ready to control this kind of power in this fun game?
Your blank canvas needs to be filled with various things. The objective of this game is to discover over 700 items. You can play the game with your mouse. You start with basic elements. These are located on the right side of the screen. Click and drag the ones you want to the center. To combine two items, you should place one on top of another. If they're compatible and could create a new thing together, they'll combine. If not, you should try different combinations. For example, after discovering the wall object, you can combine two of them to create a house. You can then combine houses to create a village and villages to discover the city. If you want to check the things you've found, you can look at the encyclopedia from the left side of the screen. If you find your screen too cluttered, use the clean up button in the top left corner to empty your screen. How many things do you think you can create?
For more games like this, be sure to visit our collection page of online puzzle games by clicking here. Enjoy!
Features
Colorful 2D graphics
Lots of different items to use
Intuitive controls
Entertaining and addictive gameplay
Controls
You can play this game with your mouse.