Play Now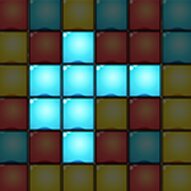 In Lof Blocks, it is time for endless fun! Use your strategy skills to clear the screen and remove the blocks. How many points do you think you can get? To accomplish all of these challenging levels all you need is your mouse and some motivation! Have fun!
Do you like colorful games like Tetris? If your answer is yes, this game is just for you! We've heard you're perfect for this type of game! To complete the levels in this entertaining skill game, you must clear the entire screen of these colorful blocks. You only need to tap or click on them to destroy them! The difficult part is gaining the highest score among all the other players and increasing your points. A board is located on the left side of the gaming screen. Before taking any action, you should keep track of your achievements on that board. You can earn extra points by making the cluster bricks larger. When you walk on the clusters, they will sparkle. If you clear that block or a cluster of blocks from the board, you may see the total score you'll win or lose. You will also receive various boosters to help you in clearing the screen. If you feel ready, let's see what you've got right now! Have fun!
If you liked Lof Blocks, to check our collection of free and online pizza games, click here!
Developer
Lof Games developed Lof Blocks.
Release Date
June 23, 2021
Features
2D colorful graphics
Various levels to complete
Multiple boosters to use
Fun and addictive gameplay
Controls
You can use your mouse or finger to play this game.