Play Now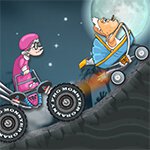 In Madmen Racing, an unusual race is waiting for you! You'd expect racers to drive top tier cars but things are a bit different in this game. Everything can be a racing car according to the characters of this game, so be prepared to drive around in trash cans, baby strollers, or even a bathtub. Despite the weird selection of racing cars, do you have what it takes to beat each race and become a champion?
The tracks in this game are as weird as its characters! Featuring ramps, hoops, and many other challenging obstacles, you should pay attention to both your opponents and the things on the way. Your objective is to win each race by completing different tasks. There are 18 different levels, each with a different design and task, that you can try to complete. First, pick a racer from the garage. You can unlock and use only one of them in the beginning, but as you complete levels, you'll earn money and can unlock the others! Each one of the racers has 6 different stats that you can upgrade, such as speed, wheels, and more. After you pick a character, choose a level. Use the arrow keys to move your character, and the X key to activate your nitro boost. You can check your nitro levels at the top of the screen. Good luck!
Who said dinosaurs can't race? Try our other game Rex Racer to show everyone that they can! Have fun!
Developer
FlashRush games developed Madmen Racing.
Release Date
2014
Features
Colorful 2D graphics
6 different stats you can upgrade
15 different characters to use
18 different races to complete
Controls
Use the arrow keys to control your vehicle. Press the X key to use the nitro boost.