Play Now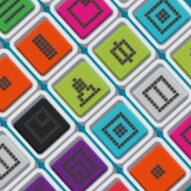 In Mahjong Digital, be ready for the newest version of the most popular game of all times! This time we will try the digital version of the classical Mahjong game! Are you ready to discover its features? Then let's jump into the game right away! Have fun!
Mahjong is a tile-based game that originated in China during the Qing era and has since become one of the most popular games in the world due to its simple rules and entertaining gameplay! So, today, we'll play the online version, which is obviously easier to play because you only need a mouse! There wasn't even a gaming table! And in this version, there are no classical cards that exist in the original version. The object of this game is to connect pairs of identical tiles to remove all of the tiles. Matching is only possible with "free" tiles. A tile is considered "free" if there are no tiles on top of it. It must also have an open side on the left or right. The tile must essentially be able to roll out without being blocked on one side or on top. Look for a match once you've chosen a tile to highlight. If you think you've found it, click it to double-check that they're the same. They'll disappear from the board when you match them. Don't forget to follow your score and remaining time from the top of the screen! Have fun!
If you liked Mahjong Digital, to check our collection of free and online mahjong games, click here!
Developer
Wanted 5 Games B.V. developed Mahjong Digital.
Release Date
June 1, 2021
Features
2D graphics
Easy controls
Entertaining gameplay
Endless gameplay
Controls
You can use your mouse to play this game.