Play Now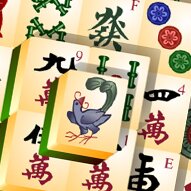 Mahjong Titans brings you the all-time classic brain workout with a radiant traditional Chinese theme! There is no time limit, no restrictions but the main rules; it's just you, the exclusively designed tiles, and the challenging images! So, leave the stress of the day behind, get yourself some tea or coffee, and get ready to relax with this puzzle and its impressive images!
Let's start with the game rules just in case it is your first time. You must match two identical tiles to take them out of the field. You cannot interact with the tiles that are placed in the middle or under another tile, so you must start with the corners and slowly move toward the middle. The game ends once you run out of possible matches, so scanning the table and starting after that might work. There is no countdown; you can take your time and think for however long you want before making a move as you cannot take your moves back. Don't be afraid to fail; you can always try again and see the progress with time! You can also pause the game, take a little break, and come back to try a new point of view. Good luck!
If you enjoy Mahjong games with traditional themes, you can check out Mahjong 2. Have fun!
Developer
Agame developed Mahjong Titans.
Release Date
June 14, 2017
Features
Easy to play
Relaxing puzzle experience
Exclusive tile designs
Impressive theme
Controls
You can use your mouse to play this game.