Play Now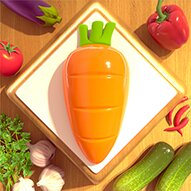 Match the colorful objects of Match Tile 3D! Tidying your room after playtime kills the mood, but what if the actual game required you to clean up a mess created by others? That's right; here, you match and clean up the identical objects in a pile of toys! Let's get to the details of your new job!
We have all kinds of toys and objects, from easter eggs to tiny planets and potion flasks. They always end up getting scattered around, and someone has to clean them up. That someone is you. Of course, there are some rules to this mission, but that's basically it. You also work against a time limit which might become a problem at more advanced levels with more items. The last small rule is that you must match these items in threes. There are three of everything, and they must be put together before you get rid of them. Every item you choose is placed on a slot below the table. You have seven slots, and they are all available but be careful; running out of slots ends the game. Making quick combos multiplies your score; you can also check this feature below. Complete levels to unlock new item sets and add new colors to your collection!
If you like this game, you can check out our Puzzle Games to find more games like this!
Developer
Albayoo developed Match Tile 3D.
Release Date
July 20, 2022
Features
Colorful 3D graphics
Bright and interesting object sets
Unlockable features
Gifts and surprises
Improving attention skills
Available on mobile devices
Controls
You can use your mouse to play this game.