Play Now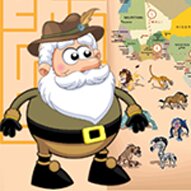 With Maze and Tourist, get ready to discover the Africa continent! There are so many cultures and various information that we don't know yet. You can be a tourist and travel around the world while solving puzzles! Find the way out of the mazes while discovering different places. Feeling excited already? Then, click on the play button and start this adventure now!
Ready to travel the Africa continent and improve your common knowledge about the world? You will be discovering 15 different countries in Africa and get to know their unique features like their capital, language, and flag. The countries are given as levels. Your objective is to complete the levels by finding your way out of the maze. You can control your character by using your mouse or the touch controls. Track the time bar at the left top of the game screen. You must find the way out before the time runs out. If not, you fail and should restart from your current country. According to the time you spend, you will receive 1, 2, or 3 stars. As you progress in the game, the difficulty level will increase as well. Good luck and have fun playing!
Since you mastered African countries and their culture, what about another country now? What about 1001 Arabian nights? If you are up for this puzzle adventure, then be sure to check Arabian Nights.
Developer
Digi Smile limited developed Maze and Tourist.
Release Date
July 28, 2021
Features
2D colorful graphics
15 levels in 15 countries
Simple controls
Fun and engaging gameplay
Controls
You can use your mouse or touch controls to play this game.