Play Now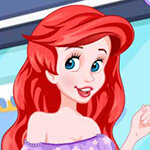 In Mermaid Flies to Tokio, our beautiful Disney princess is ready to take off to Tokyo! Summer is here and there's nothing better than travelling the world! This time, Ariel wants to explore Tokyo and see it for herself! Are you ready to keep her company and make sure everything works out?
Do you hear that? The birds are singing and crickets are chirping... The nature has come alive in summer and everything is going great! But do you know what will make your day better? Don't worry we have the answer for you! Travelling! Ariel is ready for Tokyo and will go there soon. The thing is, she needs company and we believe you're the perfect choice! Your objective is to help Ariel prepare for the journey! First things first! Start with choosing the best luggage! Did you find the perfect one? Good job! Now continue with stickers. You need to customize your luggage so you don't confuse your luggage with someone else's! It's travel 101! Now you're off to the airport! Make sure your baggage doesn't weight more than the permitted baggage allowance. Now that you've arrived in Tokyo it's time for fashion! Make sure Ariel looks perfect in the streets of Tokyo! Choose the best hair look, decide on a dress and shoes. And finally choose the accessories and you're done! Oh, isn't she a stunner! All thanks to you!
If you enjoyed dressing up Ariel, then we're sure you're going to enjoy Princess Safari Style. You can play it by clicking here and make sure the two princesses achieve the best safari look!
Features
Fun gameplay
Colorful 2D graphics
Many customization options
Intuitive Controls
Controls
Use your left mouse button to play.