Play Now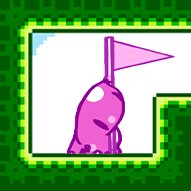 In Mini Switcher, you are invited to an exciting retro adventure with our little blob! This little one is so determined about challenging gravity and wants you to join it. It is not going to be an easy journey, but you are capable of anything when you are both together! So, what do you say? Do you have what it takes to accompany the mini blob and complete 30 challenging levels now?
You will become a blob as tiny as a piece of jelly! As a blob, you are about to get into an amazing maze and find your way out by reaching the finishing spot! In this fun adventure game, your objective is to complete each level by reaching the finish line. The biggest feature of this maze is that you can challenge gravity here! Take control of your character and click on the SPACE BAR at the correct time. When you use the SPACE BAR, the blob switches the gravity and goes up. You will face several enemies as cute as your character. Dodge them by using your switching talent. Lots of obstacles will be waiting for you too here. Take your time and act with the correct timing. Once you reach the flag, you will move on to the following level. If you are ready enough, then let the game begin now!
Can't get enough of this retro thrill? Then we have another best-fitting adventure for your game taste! Don't forget to check FireBlob to enjoy travel around the other worlds of this fun character!
Developer
NoaDev developed Mini Switcher.
Release Date
July 6, 2021
Features
2D colorful graphics
Retro background and theme
Cute characters to enjoy
Fun and addictive gameplay
Controls
You can use the "X" key, "SPACE BAR", or Left Click to switch gravity on the computer. Tap while playing on mobile.