Play Now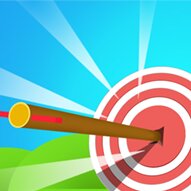 It's time to remember all the math lessons you took with Arrow Count Master! You need to get the highest numbers to reach the finish line and bring down the waves of enemy armies. Can you do the math and multiply your arrows in such ways to get the highest score?
Welcome to a new age of war where you get onto the battlefield with only one arrow and turn it into a deadly weapon to bring thousands down! Who would have thought that one day one skilled archer would be enough to bring armies down? Today is that day. You just need one arrow, multiple portals, and the right decisions. The archer aims and shoots the arrow so that you can lead it through portals. Red portals decrease the numbers while blue portals do the opposite. Calculate the equations quickly when you get stuck between two same-colored portals to pass with the highest number. Earn gold coins for the enemies you defeat, and use your money at the shop to unlock cool and funny skins for your arrows! Do not forget to log in daily to get your extra gold rewards and earn faster! Have fun!
If you like this battle of math and arrows, you can check out Gun Fest and use your logic skills on guns!
Developer
YAD.Com developed Arrow Count Master.
Release Date
July 14, 2022
Features
Nice 3D graphics
Improving math and logic skills
Unlockable weapon skins
Challenging levels and daily rewards
Available on mobile devices
Controls
You can use your mouse to play this game.