Play Now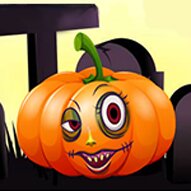 Monster Mover is here to celebrate Halloween no matter what season you're in. Whether you like to enjoy the creepy vibes all year round or if it's Spooktober, wear your costume and get ready for some fun! The monsters here welcome you to their shadowy world of puzzles! How many points you can get before your time runs out?
Halloween is all about fun with a dash of scary. But don't be scared as the characters in this game are friendly despite their creepy looks. Your objective in this match-3 game is to remove as many tiles as you can to earn a high score before you run out of time! The game features a board with a 6x9 grid, and you play with the tiles in this space. To move a tile, click and drag it. This will make you move the row or the column, depending on the direction you're moving. Placing 3 or more of the same tiles side-by-side will remove them, and this will give you points. Be careful though, as you have limited time. Check your remaining time from the right side of the screen. Have fun playing!
Do you like to challenge yourself? If so, go ahead and visit our collection of free and online puzzle games! Enjoy!</p>
Developer
Lof Games developed Monster Mover.
Release Date
October 6, 2021
Features
Colorful 2D graphics
Intuitive controls
Entertaining and addictive gameplay
Different creepy and cute characters to play with
Controls
On desktop, click and drag the tiles with your mouse to move them. On mobile devices, tap and drag your finger on the tiles to move them.