Monster School Challenges
Play Now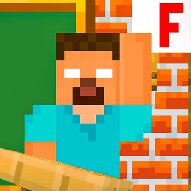 Get ready for Noob's latest adventure with Monster School Challenge! Help the eight of your favorite characters complete their tasks, pass challenging and deadly tests, and flip bottles to pass their classes and become proper monsters! Get excited, cheer with them, join their joy and sadness, and walk this road together!
Monster or not, all your favorite characters attend this school, and they all get along well, especially during exam seasons! They took the lessons together, studied together, and now, they will pass the exams together! They have a total of three subjects, and all eight of them need good notes, so you must take your time and even try again to help them pass successfully. The first test is the classic internet challenge: bottle flip. Hold the bottle and slide it carefully to make it fall on its cap. The winning students get As and go to the Winners' corner, while to losers get Fs and stand in the Losers' corner. The next mission is a parkour test. You must jump through spaces to avoid lava and dodge the traps to get an A. The final test requires you to control a minecart through a dark mine filled with TNT explosives. Good luck!
If you like the hilarious adventures of Noob, you can check out Noob Skyblock and join him to discover mysterious islands floating in the air!
Developer
Stickman vs Monster School Team developed Monster School Challenge.
Release Date
July 19, 2022
Features
Nice 2D graphics
Funny story and characters
3 fun challenges
Eight characters to play as
Cool animations
Available on mobile devices
Controls
You can use your mouse and the "S" key to play this game.