Play Now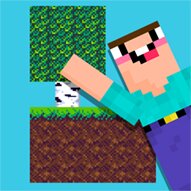 Dive into your friend Noob's block world and discover sky islands with him with Noob Skyblock! Craft your items, build houses and bases, and survive in the wilderness! Wander between villages and forests, explore new heights, and build bridges between impassable cliffs! Turn the earth into your garden and use everything nature has to offer!
Welcome to a block-made fantastic world with medieval kings and princesses! Sky islands filled with noble knights and castles, princesses kidnapped by wrathful dragons, and treasures waiting to be discovered by a clueless wanderer like you! You need nothing to set out on this fantastic journey; nature has everything you might ever need on this adventure! Start by the closest tree, cut it down with your bare hands, and craft sticks. Sticks will be the base material of many items you will craft in this game. Break blocks and place them between islands to get to other lands without dying. Kill pigs to get meat or collect eggs. Keep your hero's stomach full so that you can recover from deadly wounds quickly. Avoid vicious monsters and animals, dig your way around the worst situations, and save innocent princesses to win their hearts! Do not forget to carry a flower or two just in case!
If you like the dangerous adventures of Noob and Pro, you can check out Noob vs Pro 2 Jailbreak and help those two break free!
Developer
Noob vs Pro team developed Noob Skyblock.
Release Date
July 18, 2022
Features
Nice 2D graphics
Funny character design
Noob as the lead role!
Easy control mechanics
Mysterious lands to discover
Available on mobile devices
Controls
You can use "W, A, D" to move and your mouse to break and place blocks.